Historically, humans have hunted wildlife for a range of reasons – particularly food and sport – and in the past, such activities were conducted at a scale that was sustainable and legal. In many cases, however, this is no longer true. The methods used and the numbers taken have changed beyond measure, and new and more lucrative drivers of hunting have emerged.
The problem: large-scale hunting and trapping along migration routes
In 2015, BirdLife International released the first assessment of the true extent of bird killing throughout the Mediterranean region. The practice had been notorious in some European hotspots for many years, but a BirdLife assessment in 2015 revealed that more than 25 million birds were being illegally slaughtered each year, most of them migrants. The largest numbers were taken in relatively little-known areas such as El Manzala in Egypt, the Menbej-Tishreen Dam in Syria and Famagusta in Cyprus, as well as across Lebanon.
In addition, migrating birds of prey are hunted intensively at some migration "bottlenecks", where large numbers of birds are funnelled through small geographical spaces. A particularly problematic area is Batumi, between the mountains and the Black Sea coast in Georgia.
25 million birds a year are illegally killed in the Mediterranean alone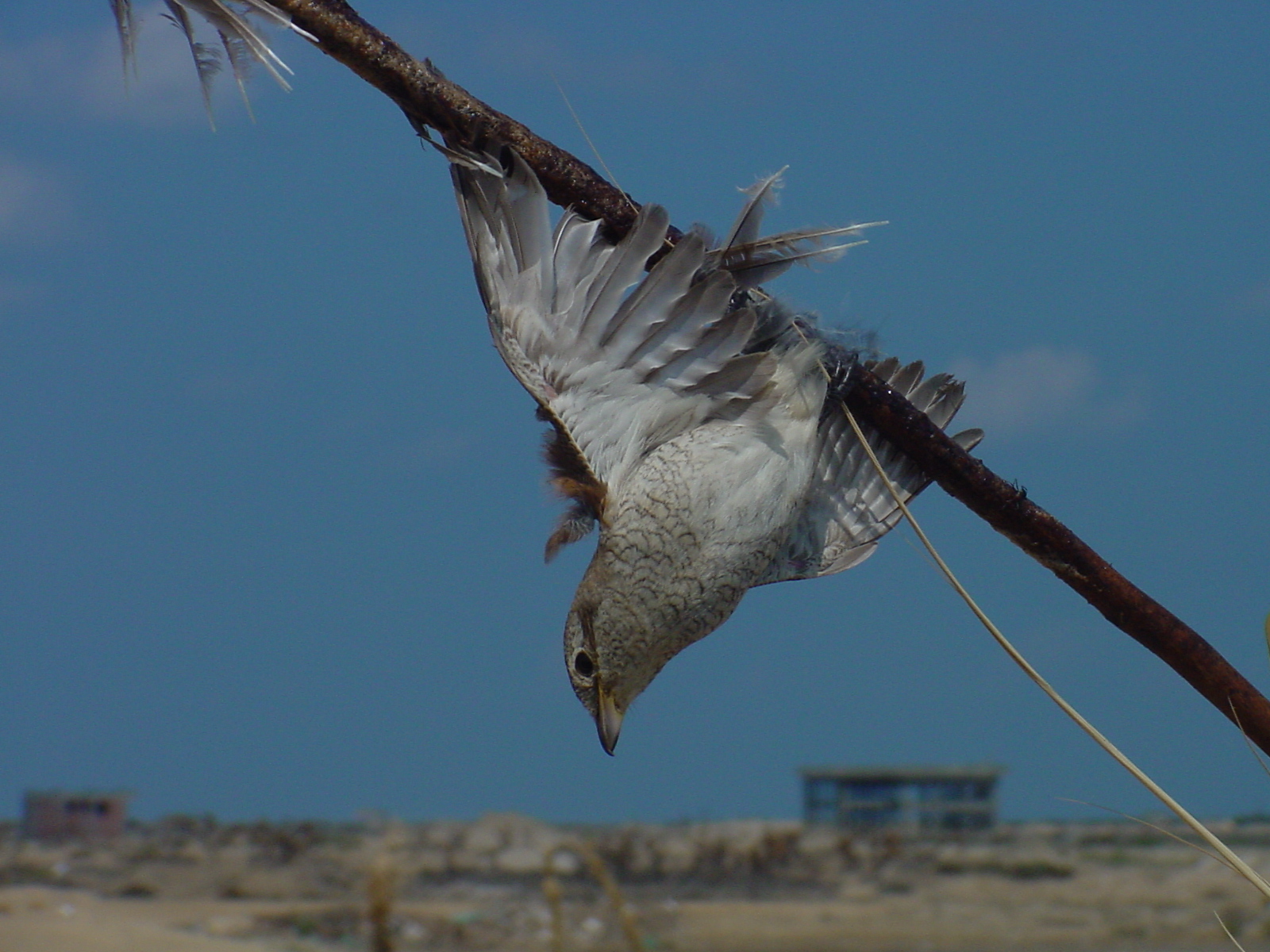 A Red-backed Shrike caught on a lime stick in Egypt © Mindy El Bashir / Nature Conservation Egypt
Along the coasts of East and Southeast Asia, vast numbers of shorebirds are trapped for food, mostly using illegal nets set up on tidal flats or beside roosting sites. At some key wintering and stopover sites in China, nets have been found at such a density that it seems remarkable that any birds manage to survive their visits. The root causes are varied: in poorer countries such as Myanmar, many citizens rely on hunting for subsistence. But birds are also caught for luxury food, sport or recreation. Additionally, some migratory landbirds such as the Yellow-breasted Bunting are trapped in vast numbers for the cagebird industry. The drivers behind these latter practices can often be highly lucrative.
Action can be taken at known Asian 'blackspots' but there are likely to be others, unknown to conservationists, and the priorities for action are uncertain: a systematic assessment of the numbers and drivers of migratory bird killing in Asia, as was done in Europe, is urgently needed.
There are clear signs that the tide is turning against illegal killing in parts of the Mediterranean basin, showing that success can be achieved. But greater effort is needed in some lesser-known areas, both in the Mediterranean and in Asia.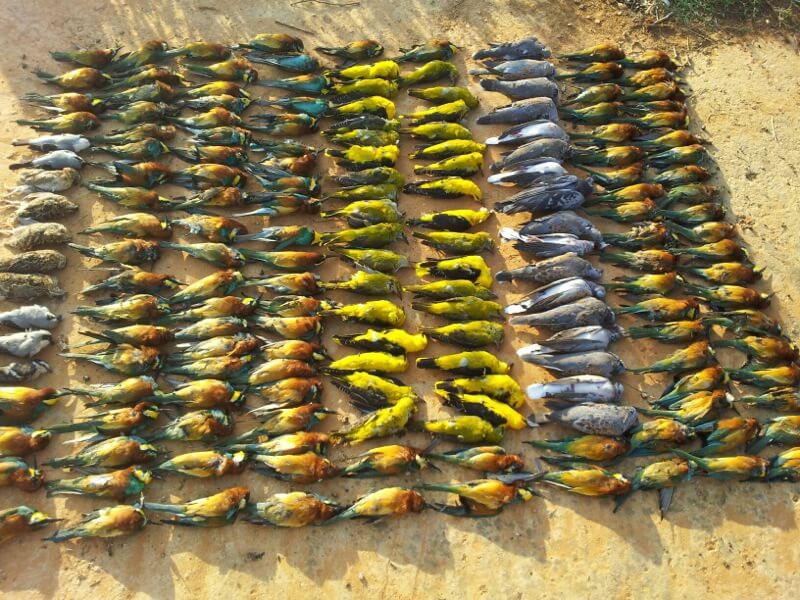 Slaughtered migratory birds in Lebanon © Georges Hareb
Our response
Restore Species Vision: Recovering populations of migratory birds travelling in safety to their destinations, supported by citizens who value the importance of wildlife and the wonder of migration.
Aim: To strengthen the networks of people and organisations working together to reduce the illegal killing of birds, focusing on 'blackspot sites' in the Mediterranean basin and coastal areas of East and Southeast Asia.
Actions & outcomes:
Our strategy is two-pronged: to raise awareness and stimulate public demand to stop the killing, and to advocate for better laws and enforcement, both on a national and international scale.
Illegal killing of birds at blackspots in the Mediterranean Basin
We will use pilot projects at blackspots in Europe, North Africa and the Middle East to promote successful approaches, forging stronger links between organisations and individuals on the ground. At Batumi, Georgia, FFI and BirdLife will help local organisations to monitor the shooting of migratory raptors and campaign to end this practice.
Understanding and reducing the illegal killing of birds at blackspots in East and Southeast Asia
Based on existing knowledge, Restore Species partners will work with Government agencies to strengthen the enforcement of hunting laws in southern China and Vietnam. In poorer communities, particularly in Myanmar, BirdLife and FFI will offer alternative livelihoods, enabling trappers to earn an income by other means. Meanwhile, to inform and prioritise wider efforts, BirdLife will undertake and publish a situation analysis of the hunting and take of wild birds in Southeast Asia, including an assessment of the driving role of trade, working with the relevant Governmental authorities.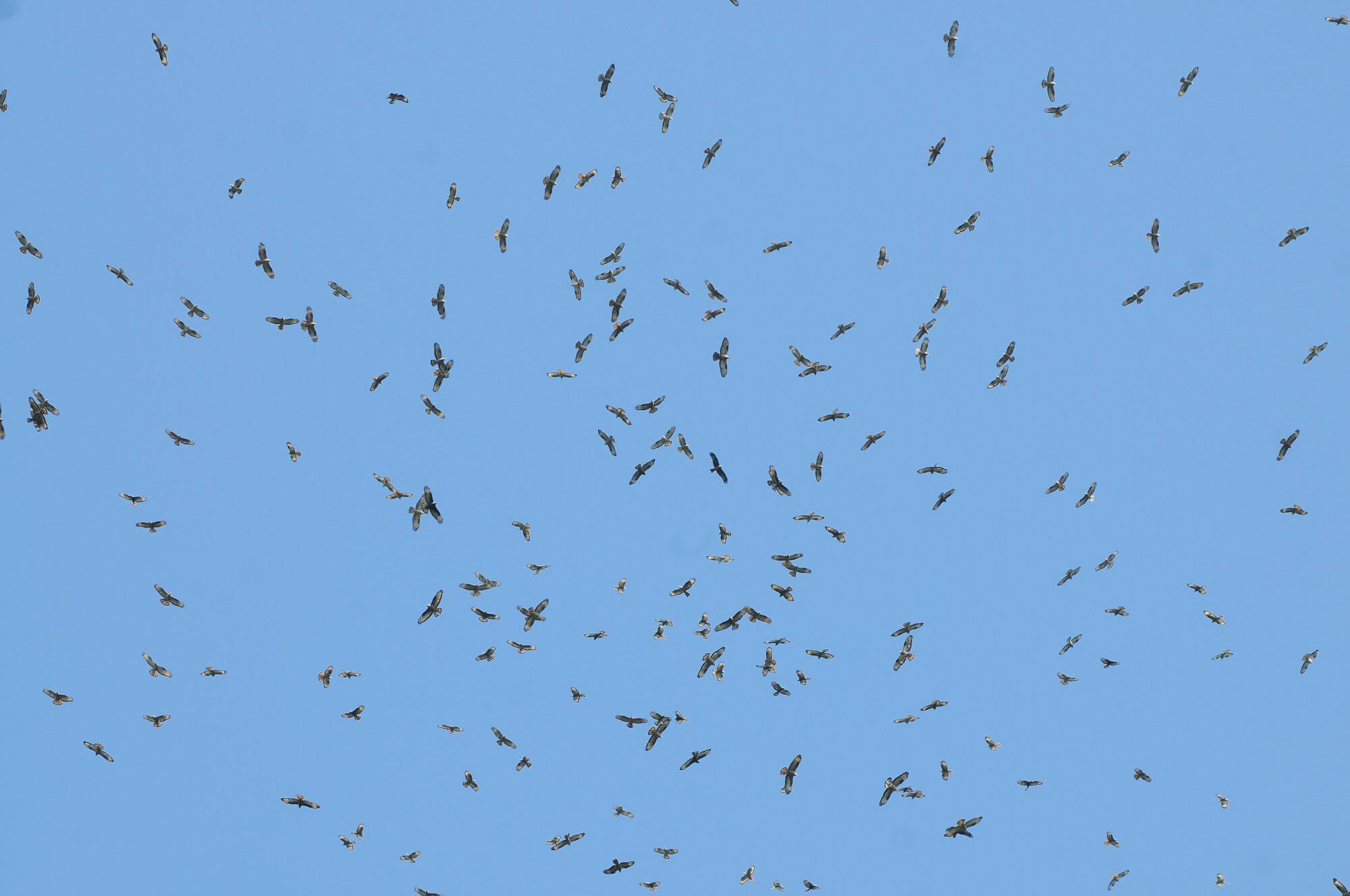 Birds of prey migrating © Christian Gelpke